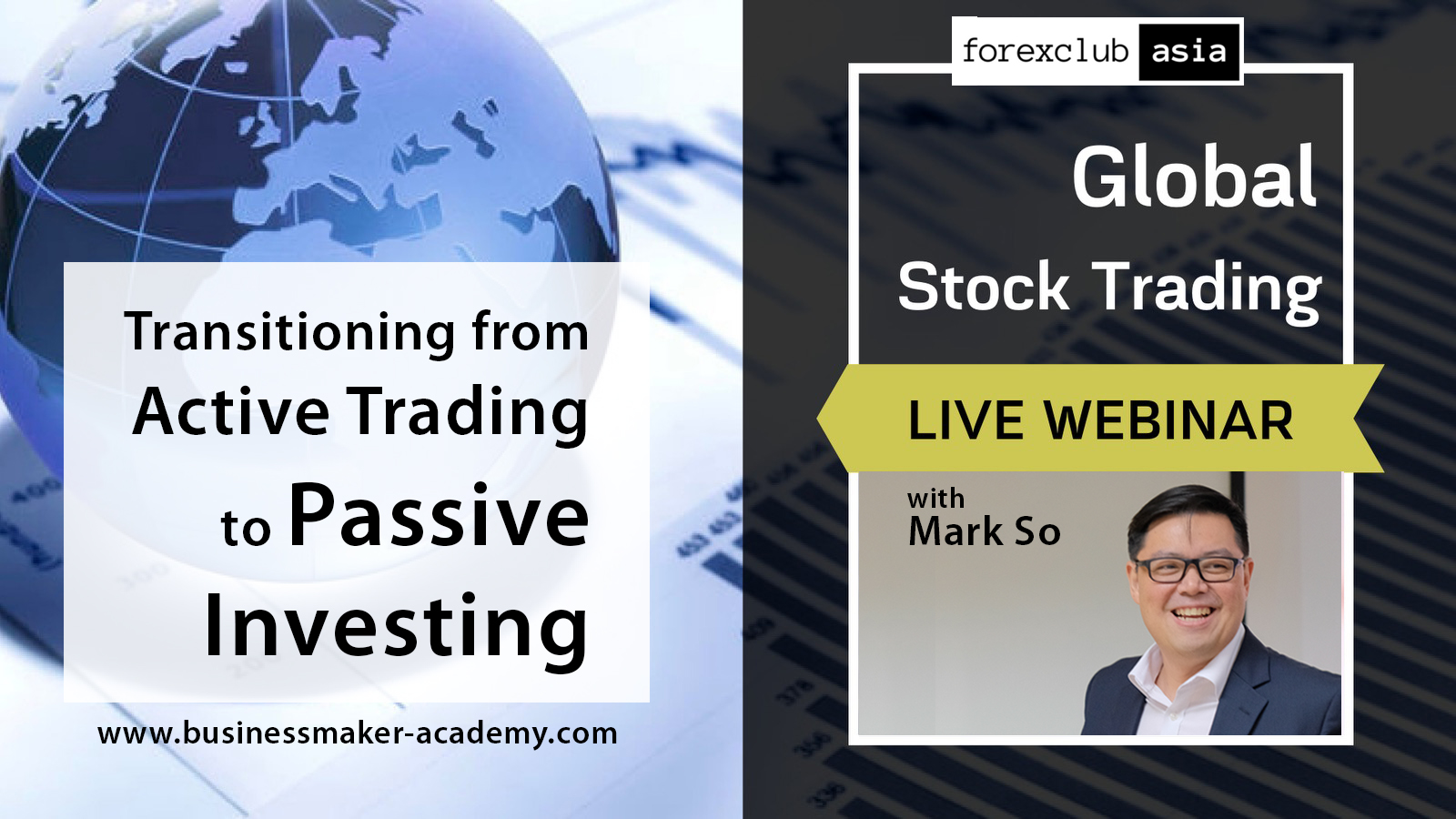 Forex Club Asia presents:
Transitioning from Active Trading to Passive Investing
LIVE WEBINAR WITH MARK SO
Zoom Webinar Schedule 2021:
PM schedule: 1:30-5:30 pm
Dec 11
Zoom Webinar Schedule 2022:
PM schedule: 1:30-5:30 pm
Jan 15 | Feb 12 | Mar 12 | Apr 2 | May 14 | Jun 11 |
Jul 16 | Aug 13 | Sep 10 | Oct 8 | Nov 12
Learn from Mark So, an Etoro Popular Investor with over 15 years of trading experience as he walks you through the Etoro platform. In this 4 hour session, he will explain the difference between active and passive investing and how to do both with professional tips on how to reduce risks, survive losses and be profitable in the long term.
Pre-requisite: Must have a Virtual Etoro Account.
Please open a Virtual Etoro account with this link if none yet. click here
Track 1: Transitioning from Active Trading to Passive Investing
• Why and how to transition from Active Trading to Passive Investing
• The trading differences and similarities of trading Stocks vs Forex
• How to re-tool yourself to transition from Active trading to Passive investing
Track 2: How to navigate and Maximize the Etoro Platform.
• How to use News Feeds, Copying People, Investing in Portfolios the practical way
• How to find the right Investor based on your risk appetite
• Really understanding the statistics of Returns, Risk Score, Draw downs, Motivations of Investors
• How to time and settings properly when copying or investing
• Copy Open Trades, or Only Copy New Trades moving forward.
• Allocating Capital, and setting your Stop copy levels to an appropriate amount
Track 3: Putting it all together: How to Invest On your Own, Professional Tips from a Popular Investor
• Understanding the 3 key elements of Passive Investing:
• Timing and Trade management
– How to "Time" Entering and Exiting The trades Using Charts Without Technical Indicators
• Portfolio Building and Management
– How to Pick Global Stocks / Instruments (The Easy Way)
• Capital and Risk Management
– How to manage your risks and lower your own risk score
– How to Hedge your positions
– How to do Modified Cost Averaging-
Live Webinar is conducted via Zoom.
Live Webinar includes access to Zoom recording.  
Live Webinars include unlimited refresher sessions.
Online Enrollment & Payment Process:
Choose Your Online Course(s)
>Register Online or
>Book via our ECQ Hotline:
Landline: (632) 7957-7937, | 7219-1039
Cel / Viber: (0912) 2231826, (0917) 6372471
Remit Payment via Bank Deposit:
Account Name: Business Maker Academy, Inc.
BPI SA Acct#: 4013-0306-64
BDO SA Acct#: 000-280-622-422
Confirm & Attend:
Please send deposit slip/bank transaction confirmation with your name and course to:
Viber#: (0912) 2231826 or
Email: accounting@businessmaker-academy.com
We will send you the Online Learning link wthin 24 hrs.
Choose Your Online Course
Click & pay via Paypal/Credit Card Button.  Upon successful payment, you will be directed to our Online Registration Page.
 Fill in and submit the Online Registration Form
This will be the basis for your eCertificate.
Confirm & Attend
A BMA Representative will contact you and we will send you the Online Learning link within 24 hrs.  You may also contact us at:
ECQ Hotline:
Landline: (632) 7957-7937, | 7219-1039
Cel / Viber: (0912) 2231826, (0917) 6372471
Risk Warning: Please be aware that investing in the Global Instruments mentioned in the video and in this post will be using CFD's. CFD stands for "Contract For Difference", meaning you are not buying the underlying asset, but rather purchasing a contract to settle the difference in the initial and ending price of the asset. When trading CFDs, you generally trade on margin, which means you only have to deposit a small percentage of the overall value of your position. This is known as "Leverage", and even small market movements may have great impact, negative or positive on your trading account. Before deciding to trade on margin you should carefully consider your investment objectives, level of experience, and risk appetite 
Important Note: Business Maker Academy Inc. is a VAT-registered company. TIN# 223-672-691-000 VAT. For zero rated or VAT exempt companies, please include your Certificate of Exemption. Provide Form 2307 or Certificate of Tax Withheld if payment done with tax withheld. Please withhold only 2% as we are classified as suppliers or contractors of service.All bank payments should be directly deposited to our official company bank accounts only under account name: Business Maker Academy, Inc. Please be advised that no other individual/personal bank account is authorized to collect payment on behalf of the company..