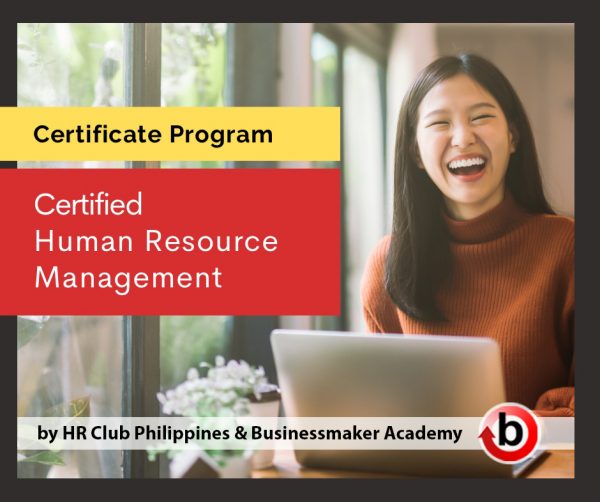 CERTICATE PROGRAM
FOR HUMAN RESOURCES
"Be a Certified HR Management Professional"
Businessmaker Academy & HR Club Philippines are now offering an online and blended learning version of the Certificate Program for Human Resources.  This program version allows you to complete the Certified HR Program from anywhere, at your own pace.
The Certified HR Management Program is a comprehensive series of courses designed to give you an in-depth understanding of the principles, practices and skills needed in order to lead and manage your company's HR operations. It includes:
Onboarding session

Online webinars and/or seminars
Culminating project application

Certification testing

Aside from learning the ins and outs of Human Resource Management, you will also get the ff. benefits:
Certified HR Professional Recognition
HR Club Philippines Elite Membership (lifetime or 1 year)
Mentorship from our dedicated In-house HR Consultants & Trainers
HR Tools, Templates and Support Services
Consultancy or Training Projects (optional)
We currently offer two learning format options:
Option 1: Webinar Only (Online Only)
– This gives you access to live or recorded zoom webinars only.
– This gives you HR Club Philippines Elite Membership (1 year membership).
Option 2: Seminar + Webinar (Blended Learning)
– This gives you access to live classroom training, live and recorded zoom webinars.
– This gives you HR Club Philippines Elite Membership (Lifetime membership).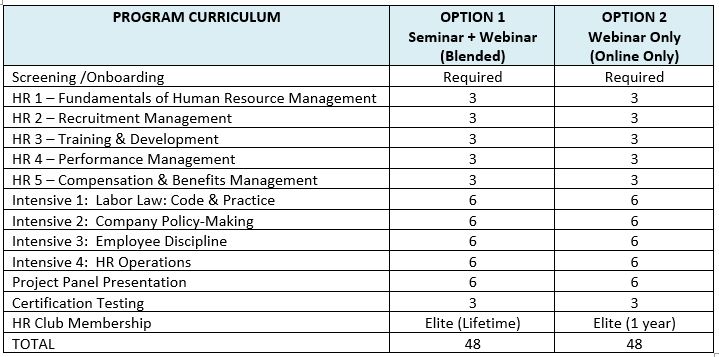 This Certificate Program is best for Business Owners, Leaders and Executives, HR Executives, Managers, Supervisors, Officers, HR Consultants and Personnel Managers.  A minimum requirement of at least 2 years higher education (college level) and at least 1 year work experience are needed to get certification.
Seminar + Webinar:
(Blended Learning)
Php 84,000 +VAT
Php 78,000 +VAT
Webinar only:
(Online Only)
Php 55,000 +VAT
Php 42,000 +VAT
For Seminar + Webinar (Blended Program):

Includes the option to attend live seminars (classroom training) & online seminars (live zoom or recorded session)
Includes HR Club Philippines Elite Membership (Lifetime)

For Webinar Only (Online Learning):

Includes Online Webinars Only (live or recorded zoom webinar)
Requirement to attend Onboarding + Project Planning Session
Requirement to submit 2 Assignment Tasks for supplemental learning.
Includes HR Club Philippines Elite Membership (1 year)

Intensive Course Topic may be changed, subject to Management Approval
The Program must be completed within 2 years. Access to recorded webinar will be for 2 years.
Certificate of Attendance will be given upon completion of each seminar/webinar.
Certificate of Completion for Certified Program will be given upon completion of Project Presentation and Certificate Testing Only.

REGISTRATION & PAYMENT METHODS:
For your convenience, you may register for this certificate program using your preferred payment method below.  If you wish to enroll in multiple classes, please click here.

Please register by clicking on the button below or contacting our hotlines. We accept bank deposits for:
Account Name:
Business Maker Academy, Inc.
BPI SA Acct#: 4013-0306-64
BDO SA Acct#: 000-280-622-422

We accept paypal or credit card payments. Choose which format you want to register for. You will be directed to Paypal for payment processing.

We accept Gcash payments. Pls register by clicking on button below. Then scan Gcash QR code to pay for the training: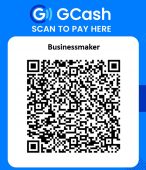 IMPORTANT REMINDER: PLEASE CONFIRM YOUR BOOKING
CONFIRM TO ATTEND THE CLASS:

Please send a snapshot of your payment transaction confirmation with your name, course & class date to:

Viber#: (0912) 2231826 or

Email: info@businessmaker-academy.com 

We will send you the Online Learning Zoom link within 24 hrs. after we receive your proof of payment.
Important Note: Business Maker Academy Inc. is a VAT-registered company. TIN# 223-672-691-000 VAT. For zero rated or VAT exempt companies, please include your Certificate of Exemption. Provide Form 2307 or Certificate of Tax Withheld if payment done with tax withheld. Please withhold only 2% as we are classified as suppliers or contractors of service.All bank payments should be directly deposited to our official company bank accounts only under account name:
Business Maker Academy, Inc. Please be advised that no other individual/personal bank account is authorized to collect payment on behalf of the company..