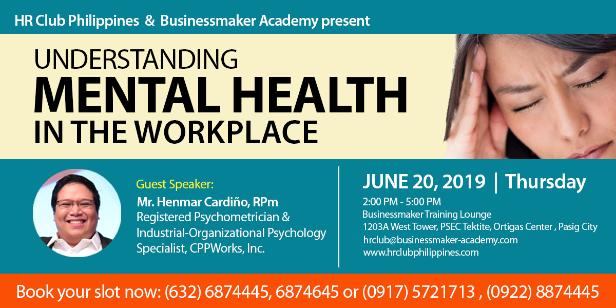 Understanding Mental Health in the Workplace
Venue:  Suite 1503A, West Tower, Philippine Stock Exchange Bldg., Exchange Road, Ortigas Center, Pasig City
Schedule 2019: June 20, 2019 (Thursday), 2-5pm
This learning session provides an overview of mental health, its impact on a company's bottom line, and evidence-based practices of promoting organizational mental health programs. Presentation is from both clinical and industrial perspectives, with emphasis on applications compatible with the Filipino culture.
. Understanding Mental Health
– ILO & WHO Situationer
– Defining Mental Health
– Mental Health Spectrum
– Consequences of Mental Health Problems in the Workplace


Corporate Compliance on Mental Health Law
– The Mental Health Law
– Other related Laws on Mental Health
– Company Policy on Mental Health: What Should Be in It?
– Reasonable Accommodation
This event is open to the public. HR Professionals, Administrative Officers, Business Managers, Team Leaders or people in charge of employee wellness in the workplace should attend this course.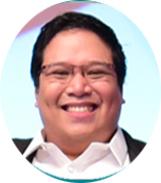 HENMAR C. CARDIÑO, MP, CSIOP, DipIR, RPm
Henmar C. Cardiño is a Registered Psychometrician and Specialist in Industrial-Organizational Psychology certified by the Psychological Association of the Philippines. In 2017, he finished his Diploma in Industrial Relations at University of the Philippines – Diliman and his Master's degree in Psychology with a specialization in Industrial Psychology at the Polytechnic University of the Philippines in 2013. He earned his Bachelor's Degree in Psychology Major in Guidance and Counseling at the University of Caloocan City in the year 2011.

He is working as Asst. Professor Lecturer I at De La Salle Araneta University and previously at the University of Caloocan City as Asst. Professor II. He is one of the Consultants of Childfam-Possibilities Psychosocial Services and on Metro Manila College. In addition, He worked as an HRD Officer at Manila Jockey Club, Inc., where he was awarded as one of the company's Outstanding Employees in 2015, 2016, and 2017.
Bonus Member Perk!
For Premium & Lifetime
Members Only:
Bring a Friend for FREE!
Inclusive of certificates, applicable drinks & meals.
Registration Required. Seminar schedule may change without prior notice.
Early Bird is applicable for Registration with Payment made on or before the ff. dates:
Session 1: Employee Wellness = Until May 15, 2019
Session 2: HR & Legal Forum = Until July 31, 2019
Session 3: HR Technology Forum = Until Sep 30, 2019
Please coordinate with Mo or Do to avail of the promos
How to Enroll in 3 Easy Steps
Choose Your Seminar(s)
Book a slot thru:
>Online Registration
>Download Registration Form
>Visit our Office
>Phone Booking at
Tel#: (632) 6874445|6874645
Cel / Viber: (0917) 8643416
Remit Payment
You may settle payment:
>at our office
>via Paypal
>via Bank Deposit:
Savings Account Name:
Businessmaker Academy, Inc.
BPI SA Acct#: 4013-0306-64
BDO SA Acct#: 000-280-622-422
Confirm & Attend
Please send deposit slip with your name and course via:
Fax#: 6874445 loc. 814
Viber#: (0917) 8643416
Email: info@businessmaker-academy.com
Bring deposit slip or receipt on your class
day
Important Note: Business Maker Academy Inc. is a VAT-registered company. TIN# 223-672-691-000 VAT. For zero rated or VAT exempt companies, please include your Certificate of Exemption. Provide Form 2307 or Certificate of Tax Withheld if payment done with tax withheld. Please withhold only 2% as we are classified as suppliers or contractors of service.All bank payments should be directly deposited to our official company bank accounts only under account name: Business Maker Academy, Inc. Please be advised that no other individual/personal bank account is authorized to collect payment on behalf of the company..