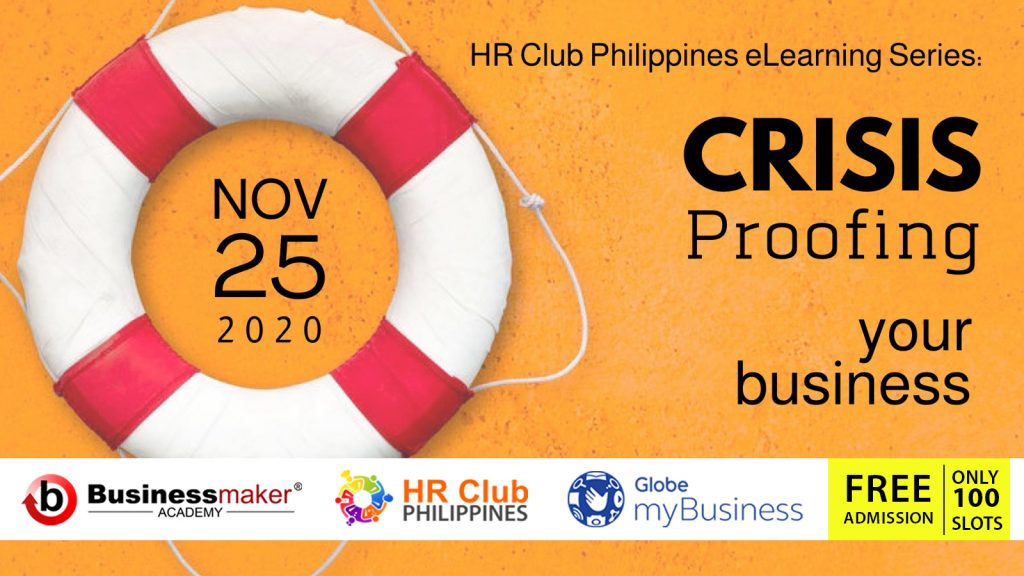 HR Club Learning Session:
Crisis-Proofing Your Business
Live Zoom Webinar:
Nov 25 (Wed) 10am to 12:nn
FREE ADMISSION: REGISTER NOW! ONLY 100 SLOTS AVAILABLE.
One important lesson that the Pandemic has forcefully shown us is that crisis can happen anywhere, anytime…when you least expect it.  Although we have no control over cathasthrophic events in our business and in life such as COVID-19, we can contol our reaction and readiness to handle these major events.  Let's talk about how we can crisis proof our business in this upcoming learning event session.
Mindset for Crisis Management
Types of Crisis
Crisis Assessment for Your Company
Contingency Plan
Q & A
Business Owners, HR Managers & Staff, HR Consultants, Administration Officers, Personnel Officers and People who manage Human Resources for their company.
This event will be conducted via Zoom.
Pre-registration is required.  Only 100 slots available.
Certificate of Attendance will not be provided for this session.