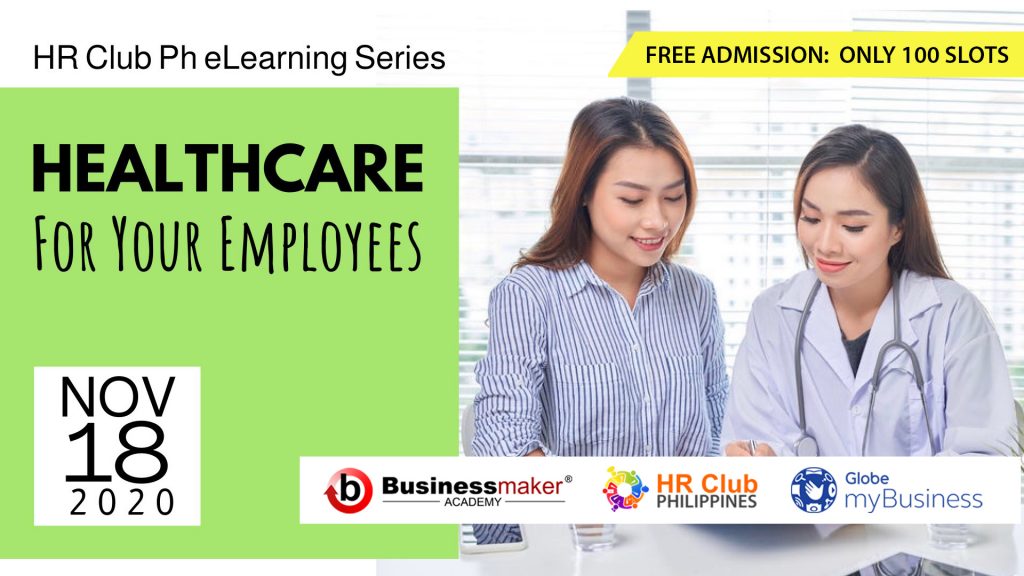 HR Club Learning Session:
Healthcare for Your Employees
Live Zoom Webinar:
Nov 18 (Wed) 10am to 12:nn
FREE ADMISSION: REGISTER NOW! ONLY 100 SLOTS AVAILABLE.
The Covid-19 Pandemic is both a health and financial crisis that has affected companies and employees.  Not only can it make people sick or even cause death, medical costs can wipe out a person's life savings.  As employers and HR practitioners, how can we help our people survive? How can we assist them in ensuring their health and wellness amidst this challenging time?
Why Should Companies Invest in ensuring health & wellness for their employees
Protecting Your Company against legal and financial liabilities
Covid Preventive Measures
Programs for Basic Health, Mental Health, Healthcare & Insurance
Q & A
Business Owners, HR Managers & Staff, HR Consultants, Administration Officers, Personnel Officers and People who manage Human Resources for their company.
This event will be conducted via Zoom.
Pre-registration is required.  Only 100 slots available.
Certificate of Attendance will not be provided for this session.