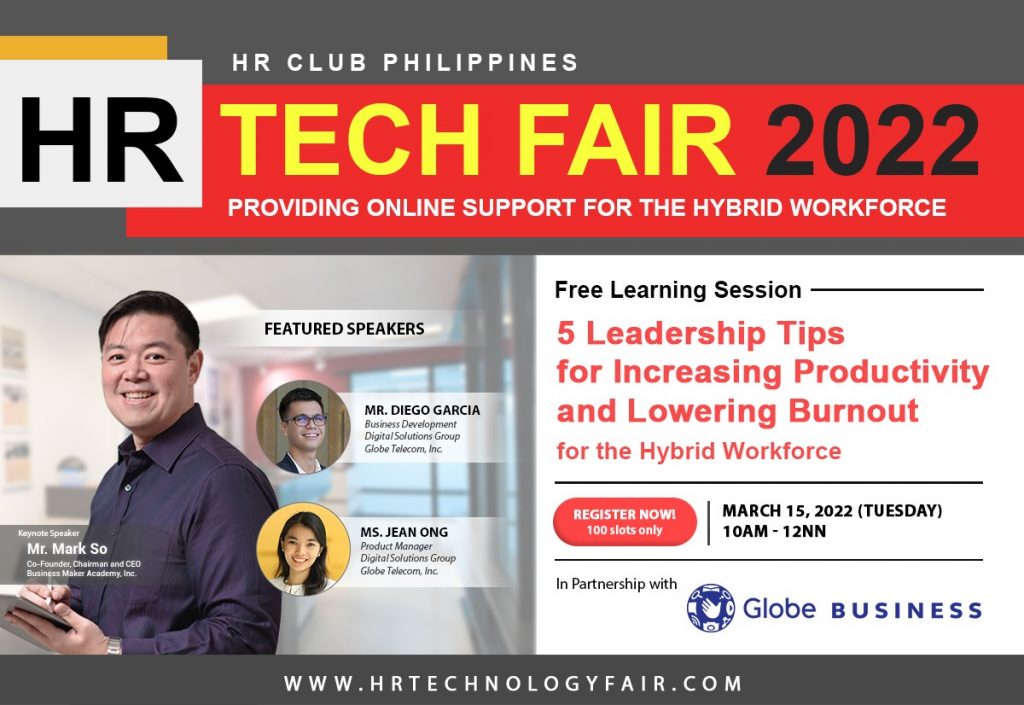 HR TECH FAIR 2022: ONLINE LEARNING EVENT
5 Leadership Tips for Increasing Productivity & Lowering Burnout
for the Hybrid Workforce
Live Zoom Webinar: March 15 (Tue) | 10am to 12:nn
FREE ADMISSION: REGISTER NOW! ONLY 100 SLOTS AVAILABLE.
Business owners, employers & HR practitioners have had to adjust to several changes that have brought about the hybrid workforce set-up. Faced with challenges that stem from this, the learning event will provide leadership tips, tools and resources that will help you increase productivity, handle communications and lower burnout.
Remote work-life boundaries
Employee Communication
Employee Engagement
Employee Health and Welfare
Employee Leadership and Growth
Business Owners, HR Managers & Staff, HR Consultants, Accounting Officers, IT Officers, Administration Officers, Personnel Officers and People who manage Human Resources for their company.
This event will be conducted via Zoom.
Pre-registration is required.  Only 100 slots available.
Certificate of Attendance will not be provided for this session.