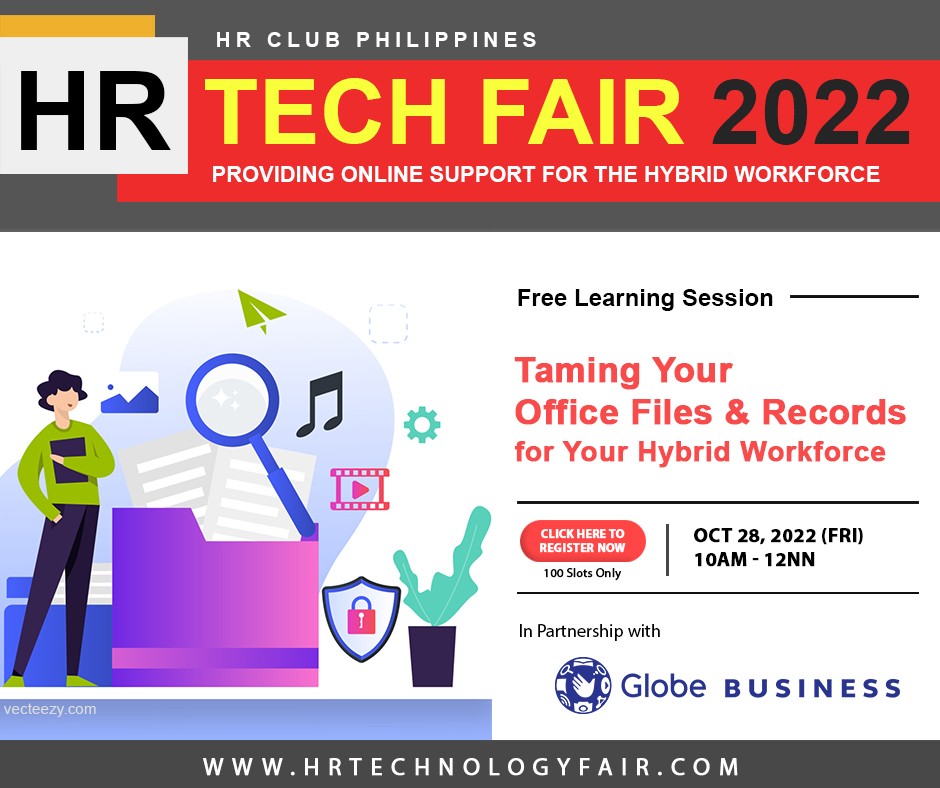 HR TECH FAIR 2022: ONLINE LEARNING EVENT
Taming Your Office Files & Records
Live Zoom Webinar: Oct 28, 2022 (Fri) | 10am to 12:nn
FREE ADMISSION: REGISTER NOW! ONLY 100 SLOTS AVAILABLE.
Organizations are faced with mountains of documents that need to be sorted, kept or disposed of. This becomes more challenging when dealing with a hybrid workforce. This session will provide practical guidelines, technology solutions and tools on how to tame your office files and records.
Issues & Challenges of Office Files Keeping for the Hybrid Workforce
Factors to consider for Office Files Management
Best Practices for a Sustainable Office Files and Records System for the Hybrid Workforce
Solutions for Office Files & Records Management Keeping
Business Leaders, Business Managers, HR Managers & Staff, HR Consultants, Training Officers, Accounting Officers, IT Officers, Department Staff, Administration Officers, Personnel Officers and People who manage Files & Records for their company.
This event will be conducted via Zoom.
Pre-registration is required.  Only 100 slots available.
Certificate of Attendance will not be provided for this session.