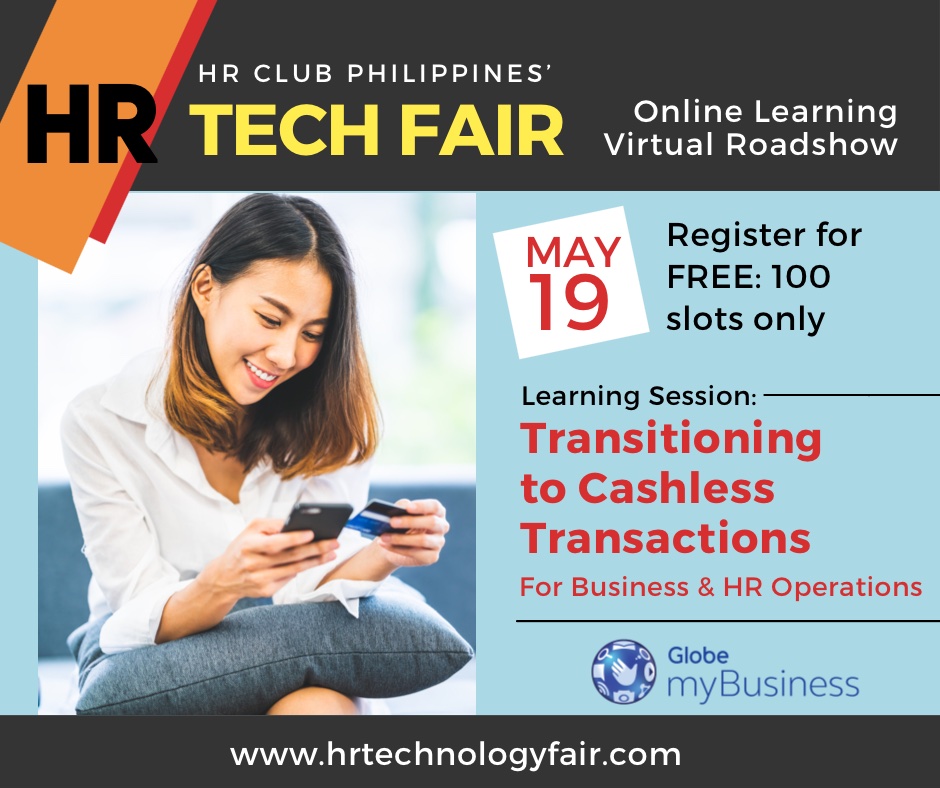 HR TECH FAIR: ONLINE LEARNING VIRTUAL ROADSHOW
Transitioning to Cashless Transactions for Business & HR Operations
Live Zoom Webinar: May 19 (Wed) 10am to 12:nn
FREE ADMISSION: REGISTER NOW! ONLY 100 SLOTS AVAILABLE.
The pandemic has disrupted our Business and HR Operations as we know it. Fortunately, technology has allowed us to work remotely and even do financial transactions online. This Learning Event focuses on challenges, solutions and tips for integrating parts of your Accounting and HR Operations with online cashless transactions.
Using Fintech for Remote Business, Accounting and HR Operations
Available Fintech Systems & Solutions
Challenges in Transitioning to Online Cashless Transactions
Using Gcash for Business Transactions & HR Operations
Q & A
Business Owners, HR Managers & Staff, HR Consultants, Accounting Officers, IT Officers, Administration Officers, Personnel Officers and People who manage Human Resources for their company.
This event will be conducted via Zoom.
Pre-registration is required.  Only 100 slots available.
Certificate of Attendance will not be provided for this session.