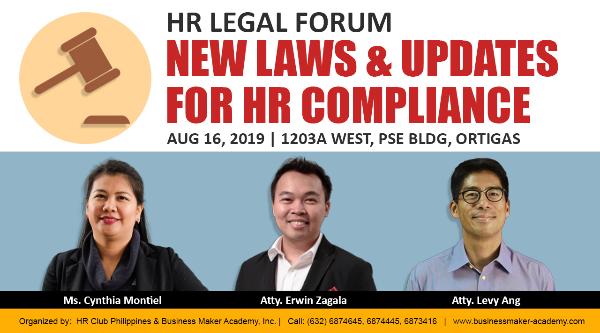 New Laws & Updates for HR Compliance
Venue:  Suite 1503A, West Tower, Philippine Stock Exchange Bldg., Exchange Road, Ortigas Center, Pasig City
Schedule 2019: August 16, 2019 (Thursday), 9am to 5pm
Important updates and laws are being implemented which HR professionals need to know. This session provides an overview of the important points affecting HR policies and a forum for discussing situations and issues related to these. A must-attend seminars for all employers and HR practitioners operating in the Philippines.
I. Overview of HR & Legal Forum
Get the latest laws & updates related to Human Resource practices in the Philippines and
learn how to prepare and adapt these to your HR policies for your company.

II. Expanded Maternity Leave Act
The Department of Labor and employment formally launched the implementing rules and
regulations for the Expanded Maternity Leave law.  Unknown to many, the new law is not just
about extending the days for maternity leave.  Our speaker will discuss important new features
and share applicable situations, claiming of benefits and how families and companies will be
affected by the governing policies.

III. Sexual Harassment in the Workplace
One of the most controversial workplace problems is sexual harassment. Congress affirms to
have a bill seeking to impose stiffer penalties on people committing sexual harassment in the
workplace. The talk will tackle preventive measures and legalities to follow once it happens.  
Our speaker will discuss how HR practitioners can handle these cases in a legal and
professional manner.

IV. End of Contractualization
The bill seeking to end abusive forms of contractualization has been finally passed and is now
in the executive department for signing. Our voluntary labor arbitrator will discuss the rationale
behind the bill and how this can affect current work arrangements.  Our speaker will provide
guidelines that can help employers adapt and comply with the law.  Salient points of HB
6908/SB 1826 will be discussed which would hopefully assuage the concerns expressed the
employers and third-party service providers.

This event is open to the public. HR Professionals, Administrative Officers, Business Managers, Team Leaders or people in charge of employee wellness in the workplace should attend this course.
Non-Member

Php6000+VAT /paxPhp6000+VAT /pax
Inclusive of certificates, applicable drinks & meals.
Registration Required. Seminar schedule may change without prior notice. Early Bird is applicable for Registration with Payment made on or before July 31, 2019
Please look for Mo or Do to avail of discounts or promos
How to Enroll in 3 Easy Steps
Choose Your Seminar(s)
Book a slot thru:
>Online Registration
>Download Registration Form
>Visit our Office
>Phone Booking at
Tel#: (632) 6874445|6874645
Cel / Viber: (0917) 8643416
Remit Payment
You may settle payment:
>at our office
>via Paypal
>via Bank Deposit:
Savings Account Name:
Businessmaker Academy, Inc.
BPI SA Acct#: 4013-0306-64
BDO SA Acct#: 000-280-622-422
Confirm & Attend
Please send deposit slip with your name and course via:
Fax#: 6874445 loc. 814
Viber#: (0917) 8643416
Email: info@businessmaker-academy.com
Bring deposit slip or receipt on your class
day
Important Note: Business Maker Academy Inc. is a VAT-registered company. TIN# 223-672-691-000 VAT. For zero rated or VAT exempt companies, please include your Certificate of Exemption. Provide Form 2307 or Certificate of Tax Withheld if payment done with tax withheld. Please withhold only 2% as we are classified as suppliers or contractors of service.All bank payments should be directly deposited to our official company bank accounts only under account name: Business Maker Academy, Inc. Please be advised that no other individual/personal bank account is authorized to collect payment on behalf of the company..