Microsoft Excel -

Data Analytics

Live Zoom Webinar: 
Duration: 2 sessions x 4 hrs
Time: AM Sched = 8:30am-12:30pm  |  PM Sched =1:30-5:30pm
Schedule 2023:  Mar 13-14 (PM) | Oct 30-31 (PM)

Live Seminar:
Duration: 2 day x 8 hrs
Time: 9am to 5pm
Schedule 2023: Jun 1-2
Conducted by a Certified Microsoft Trainer, this 2-day program is designed for advanced Excel Users to take their Excel Skills to the next level. Learn how to use the set of Power BI tools for powerful data analysis and data modelling in Microsoft Excel. With PowerPivot, you can mash up large volumes of data from various sources, perform information analysis rapidly and share insights easily. Use Power View to bring your data to life with visuals such as charts, graphs, maps and tables. 
Participants must have attended the Advanced Microsoft Office Excel
Hardware/Software Requirements​
Microsoft Excel 2016 / 2019 Office 365 version 
At least 8GB RAM (Memory)
Mac laptop/ Mac book version is not allowed
At the end of the course, participants will be able to:
Explore the Excel Power tools
Work with the Power Query Editor
Handle Data Shaping with Power Query Editor
Recognize Excel's Data Model
Connect Multiple Tables
Create Powerpivot and Data Analysis Expressions
Use DAX syntax and operators
Use Advance Data Analysis Expressions
Explore Data Visualization Using Pivot Chart, Power Map and Power View
Demonstrate Different Visuals in Power View
Introduction to Excel Power Tools
The Power Excel Workflow
When to Use Power Query and Power Pivot in Excel
The Query Editor Interface
Options for Loading Data in Excel
Basic Power Query Table Transformations
Data Shaping with Power Query Editor
Merging and Appending Queries
Connecting Excel to Folder of Files
Data vs Diagram Views
Data Tables vs Lookup Tables
Relationships vs Merge Tables
Creating, Modifying Table Relationships
Relationship Cardinality
Connecting Multiple Tables
Filter Direction
Defining Hierarchies
Powerpivot and data analysis expressions
Power Pivot Best Practices
Common DAX Functions and Categories
Advance DATA Analysis Expressions
The Calculate Function
Time Intelligence Functions
Speed and Performance Configuration
Exploring Pivot Chart, Map, View
DEMO: Matrix Visuals, Date Slicers, Cards and KPI's, Text Cards, Map Visuals, Tree Maps, Line and Area Charts, Trend-lines and Forecast, Gauge Charts
Data Analyst, Accountants, Excel Professionals, Business Intelligence Experts
Live Webinars are conducted via Zoom and includes: eCertificate of Completion. Printed Certificates may be requested with minimal processing fee of Php100 plus shipping fee.
Live Seminars will be held at Businessmaker Training Center in PSEC-Tektite, Ortigas Center, Pasig City. Regular Seminars include: Certificate of Completion, Seminar Kit, Meals and Drinks.
Live Seminars include non-transferable one-time refresher seminar session within one year.
Live Seminar Enrollees who have not yet attended their live seminars due to ECQ are automatically enrolled in Live Webinar + Seminar program. Please contact us to book your slot.

REGISTRATION & PAYMENT METHODS:
For your convenience, you may register for this course using your preferred payment method below. If you wish to enroll in multiple classes, please click here.

Please register by clicking on the button below or contacting our hotlines. We accept bank deposits for:
Account Name:
Business Maker Academy, Inc.
BPI SA Acct#: 4013-0306-64
BDO SA Acct#: 000-280-622-422

We accept paypal or credit card payments. Choose which format you want to register for. You will be directed to Paypal for payment processing.

We accept Gcash payments. Pls register by clicking on button below. Then scan Gcash QR code to pay for the training: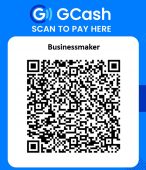 IMPORTANT REMINDER: PLEASE CONFIRM YOUR BOOKING
CONFIRM TO ATTEND THE CLASS:

Please send a snapshot of your payment transaction confirmation with your name, course & class date to:

Viber#: (0912) 2231826 or

Email: info@businessmaker-academy.com 

We will send you the Online Learning Zoom link within 24 hrs. after we receive your proof of payment.
Important Note: Business Maker Academy Inc. is a VAT-registered company. TIN# 223-672-691-000 VAT. For zero rated or VAT exempt companies, please include your Certificate of Exemption. Provide Form 2307 or Certificate of Tax Withheld if payment done with tax withheld. Please withhold only 2% as we are classified as suppliers or contractors of service.All bank payments should be directly deposited to our official company bank accounts only under account name:
Business Maker Academy, Inc. Please be advised that no other individual/personal bank account is authorized to collect payment on behalf of the company..