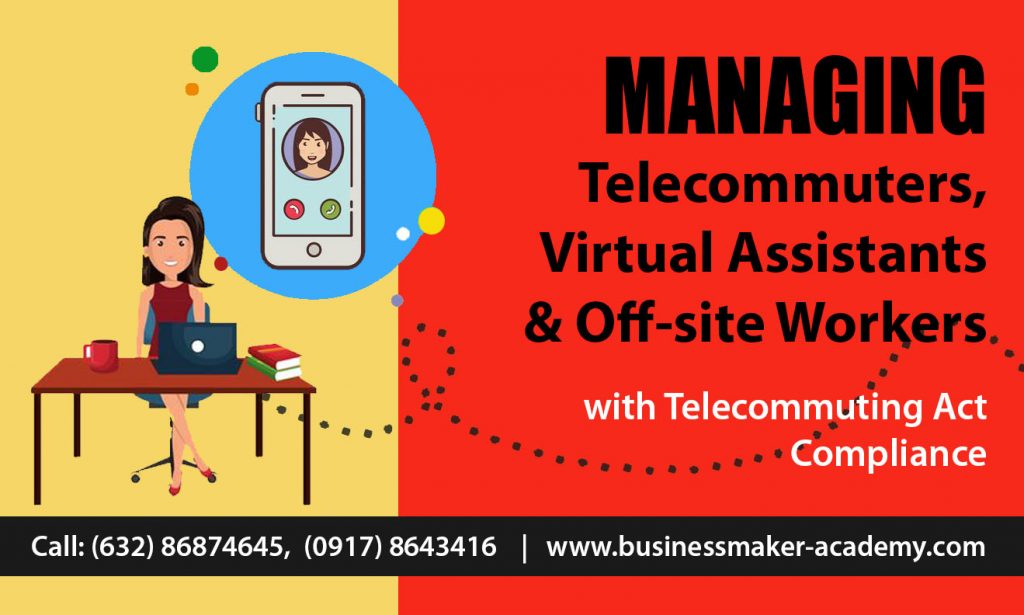 MANAGING VIRTUAL TEAMS, TELECOMMUTERS & OFF-SITE WORKERS
"How to Manage People based on the Telecommuting Act with Best Management Practices & Digital Tools"
Venue:  Suite 1503A, West Tower, Philippine Stock Exchange Bldg., Exchange Road, Ortigas Center, Pasig City
Schedule 2020:  April 24 (10am-12nn)
• Addendums to Company policies to deal with Telecommuting
• Effects of the telecommuting act on compensation and benefits
• Identify who in your organization are suited for Telecommuting
• Explore digital tools designed for telecommuting
• Manage performance, feedback, and work output of Telecommuters and Virtual Team
This course is for HR Practitioners, Office Administrators, Department Managers and Supervisors who need to work with and effectively manage Telecommuters, Virtual Teams, Off-site Workers and even freelancers..
Rates are VAT Inclusive

Inclusive of written "Recap Notes of Critical Points" in PDF for easy reference of discussion points.

Registration Required. Seminar schedule may change without prior notice.

Please read our

cancellation and refund policy

.
How to Enroll in 3 Easy Steps
Book a slot thru:
>Online Registration
>Download Registration Form
>Phone Booking at
Tel#: (632) 8687-4445 | 8687-4645
Cel / Viber: (0917) 8643416
Remit Payment
You may settle payment:
>via Paypal
>via Bank Deposit:
Savings Account Name:
Business Maker Academy, Inc.
BPI SA Acct#: 4013-0306-64
BDO SA Acct#: 000-280-622-422
Confirm your slot
Please send deposit slip with your name and course via:
Fax#: (632) 8687-4445 loc. 814
Viber#: (0917) 8643416
Email: accounting@businessmaker-academy.com


Important Note: Business Maker Academy Inc. is a VAT-registered company. TIN# 223-672-691-000 VAT. For zero rated or VAT exempt companies, please include your Certificate of Exemption. Provide Form 2307 or Certificate of Tax Withheld if payment done with tax withheld. Please withhold only 2% as we are classified as suppliers or contractors of service.All bank payments should be directly deposited to our official company bank accounts only under account name: Business Maker Academy, Inc. Please be advised that no other individual/personal bank account is authorized to collect payment on behalf of the company..