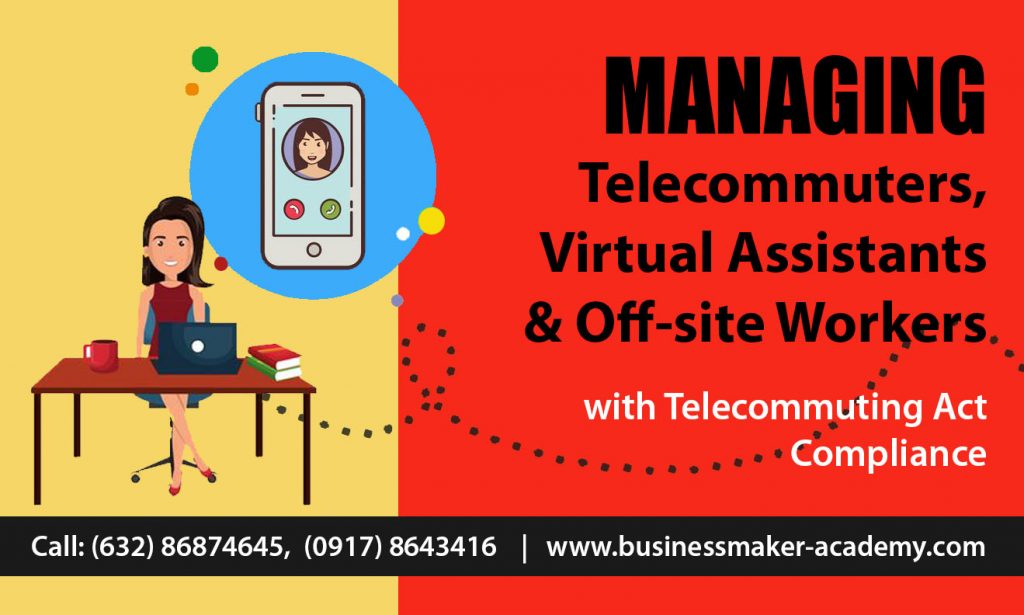 MANAGING VIRTUAL TEAMS, TELECOMMUTERS & OFF-SITE WORKERS
"How to Manage People based on the Telecommuting Act with Best Management Practices & Digital Tools"
Venue:  Suite 1503A, West Tower, Philippine Stock Exchange Bldg., Exchange Road, Ortigas Center, Pasig City
Schedule 2020:  May 7-8  |  Aug 19-20  |  Nov 19-20
The Philippine Government has enacted the Telecommuting Act which recognizes this growing alternative work arrangement.  Although generally welcomed by workers, there are challenges, adjustments and even resistance to this work arrangement by some workers and many employers or managers.  This 2-day course is designed to help HR professionals and business leaders to better manage virtual teams, telecommuters and off-site workers using fundamental management principles armed with effective digital technology tools for a harmonious work relationship and productive output.
At the end of the course, participants will be able to:
Discuss the Salient Points of the Telecommuting Law
Find solutions for challenges brought about by this type of work arrangement
Explore Digital Tools that is designed for Telecommuting
Manage performance, feedback and work output of Telecommuters & Virtual Teams
Salient Points of the Telecommuting Act (RA NO. 11165)
Important Company Policies to prepare
Work Status of Telecommuters
Effects on Compensation & Benefits
Pros & Cons of Telecommuting
Benefits & Challenges for the Worker
Benefits & Challenges for the employer/manager
Fields & Industries suitable for Telecommuting Set-up
How to Manage Virtual or Off-site Workers Effectively
Digital & Work Productivity Tools for Managing Telecommuters
Building Virtual Team Culture
Essential Work Habits for Managers
Preparing Work Assignments
Handling Feedback, Corrections & Revisions
Employee Discipline for Telecommuters & Off-site Workers
This course is for HR Practitioners, Office Administrators, Department Managers and Supervisors who need to work with and effectively manage Telecommuters, Virtual Teams, Off-site Workers and even freelancers..
| Early Bird Rate | Regular Rate |
| --- | --- |
| | |

Seminar is inclusive of handout, Certificate of Completion, Lunch, Snacks & Drinks.
Plus: Free 1 time refresher session within 1 year (with minimal fee = Php500/day for food & handout)
Registration Required. Seminar schedule may change without prior notice.
Early Bird Rate is applicable for payments made 8 days before the seminar date.
Bring-a-friend promo is not applicable with other promos.
Pay Parking is available on a first-come, first-served basis
Please read our cancellation and refund policy.
How to Enroll in 3 Easy Steps
Choose Your Seminar(s)
Book a slot thru:
>Online Registration
>Download Registration Form
>Visit our Office
>Phone Booking at
Tel#: (632) 8687-4445 | 8687-4645
Cel / Viber: (0917) 8643416
Remit Payment
You may settle payment:
>at our office
>via Paypal
>via Bank Deposit:
Savings Account Name:
Business Maker Academy, Inc.
BPI SA Acct#: 4013-0306-64
BDO SA Acct#: 000-280-622-422
Confirm & Attend
Please send deposit slip with your name and course via:
Fax#: (632) 8687-4445 loc. 814
Viber#: (0917) 8643416
Email: info@businessmaker-academy.com
Bring deposit slip or receipt on your class day
Important Note: Business Maker Academy Inc. is a VAT-registered company. TIN# 223-672-691-000 VAT. For zero rated or VAT exempt companies, please include your Certificate of Exemption. Provide Form 2307 or Certificate of Tax Withheld if payment done with tax withheld. Please withhold only 2% as we are classified as suppliers or contractors of service.All bank payments should be directly deposited to our official company bank accounts only under account name: Business Maker Academy, Inc. Please be advised that no other individual/personal bank account is authorized to collect payment on behalf of the company..
Customers who looked into this course also enrolled in: