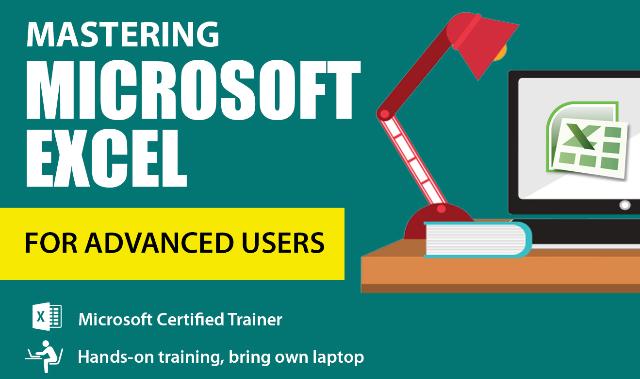 Mastering Microsoft Excel for Advanced Users
Venue:  Suite 1503A, West Tower, Philippine Stock Exchange Bldg., Exchange Road, Ortigas Center, Pasig City
Manila Schedule 2020: Feb 20-21  |  Apr 27-28  |  Jun 29-30   | Aug 17-18  |  Oct  29-30  |  Dec  17-18
Cebu Schedule 2020: July 6-7
Conducted by a Certified Microsoft Trainer, this 2-day hands on course will provide you with the knowledge of more specialized and advanced capabilities of Excel by automating some common tasks, applying advanced analysis techniques to more complex data sets, collaborating on worksheets with others, and sharing Excel data with other applications.
Participants must have attended Basic Microsoft Excel. 

Participants must bring their own laptop to apply lessons and work on exercises.
Hardware/Software Requirements
Microsoft Excel 2016 / 2019 version
Mac laptop/ Mac book version is not allowed
At the end of the course, participants will be able to:
Identify & Define the Essential Components of Excel Formulas
Perform Advanced Formulas
Identify how to format financial statements and other Excel-based Reports effectively
Perform Data Security and Validation
Create Excel-based Charts & Dashboards to aid in communicating financial data information
Manage Big Data in Excel
Use Data Analysis Tools and Pivot Features
Get introduced to Macro functions and features
The Essential Componenets of Excel Formulas
Using Relative & Absolute value for cell reference
Using Name box to calculate data across worksheets
Performing Advanced Formulas
Create Solutions in TEXT data
Streamline aging report
Using IF condition and Logical functions
How to Format Financial Statements and other Excel-based reports
Performing Data Security and Validation
Creating charts and dashboards to aid financial data communication
Managing Big Data in Excel
Application of Advanced Filter with Name Manager and logical symbols
Data Consolidation from different References
Using Database Functions
Analysis Tools Using Pivot Features
How to merge database to PIVOT
Manage, Manipulate and re-define PIVOT data resources
Visual Basic Introduction
Macro with Excel Functions & Features
Macro Settings, Recording, Assignments, Execution
This course is intended for novice information workers who want to learn advanced level Excel skills.  Administrative Officers, Finance Officers, Department Managers, Assistants and all office workers who want to learn advanced functions of Microsoft Excel program must attend this course.
| Early Bird Rate | Regular Rate |
| --- | --- |
| | |

Seminar is inclusive of handout, Certificate of Completion, Lunch, Snacks & Drinks.
Plus: Free 1 time refresher session within 1 year (with minimal fee = Php500/day for food & handout)
Registration Required. Seminar schedule may change without prior notice.
Early Bird Rate is applicable for payments made 8 days before the seminar date.
Bring-a-friend promo is not applicable with other promos.
Pay Parking is available on a first-come, first-served basis
Please read our cancellation and refund policy.
How to Enroll in 3 Easy Steps
Choose Your Seminar(s)
Book a slot thru:
>Online Registration
>Download Registration Form
>Visit our Office
>Phone Booking at
Tel#: (632) 6874445|6874645
Cel / Viber: (0917) 8643416
Remit Payment
You may settle payment:
>at our office
>via Paypal
>via Bank Deposit:
Savings Account Name:
Businessmaker Academy, Inc.
BPI SA Acct#: 4013-0306-64
BDO SA Acct#: 000-280-622-422
Confirm & Attend
Please send deposit slip with your name and course via:
Fax#: 6874445 loc. 814
Viber#: (0917) 8643416
Email: info@businessmaker-academy.com
Bring deposit slip or receipt on your class
day
Important Note: Business Maker Academy Inc. is a VAT-registered company. TIN# 223-672-691-000 VAT. For zero rated or VAT exempt companies, please include your Certificate of Exemption. Provide Form 2307 or Certificate of Tax Withheld if payment done with tax withheld. Please withhold only 2% as we are classified as suppliers or contractors of service.All bank payments should be directly deposited to our official company bank accounts only under account name: Business Maker Academy, Inc. Please be advised that no other individual/personal bank account is authorized to collect payment on behalf of the company..