Track Record & Clients Served
We have proudly served and continue to work with these organizations to train and transform their people for meaningful results
1Rotary Trading Corp
A.G Araja Construction And Development Corp.
Aboitiz Power
Adamson University
Adventist Development And Relief Agency
Aeon Credit Service Systems (Philippines), Inc.
Afpmbai
All Fast Worldwide Logistics Corp
Allied Hospital Supply Int'L Corporation
Allied Sales Corporation
American Wire Cable Co
Amtec
Anglo-Eastern Crew Management Philippines Inc.
Apo Production Unit Inc
Araneta Center
Assistco Energy & Idustrial Corporation
Asurion Hong Kong Limited – Rohq
Ateneo De Manila University
Atex Automation And Technologies
Avida Land Corp
Avon Cosmetics, Inc.
Balboa Digital
Bizsolv Asia Mpc
Bjmp
Bluestone
Booth And Partners Philippines Inc.
Bp Waterworks, Inc.
Build Your Dreams Advertising
Cagayan Valley Medical Center
Camalig Bank, Inc (A Rural Bank)
Canon Business Machines Phils. Inc
Cape East Philippines Inc
Capital One Philippine Support Services Corporation (Copssc)
Cardno Emerging Markets Autralia Pty Ltd Rohq Phils
Care Shared Service Center
Centro Escolar University
Christoffel Blindenmission (Cbm)
City Hall Employees Multipurpose Cooperative
Commiplus
Compass Training Center
Competent Maritime Professionals And Sea Staff Training Center, Inc.
Connected Freight
Consistent Frozen
Coral Bay Nickel Corporation
Core -Asia Paper Products Ctr.
Creative Gateway Inc.
Cvm Pawnshop & Money Changer Corp
D.Libunao Gas Mfg. Corp
Davao City Water District
Delbros Waterfront Leasing Co. Inc.
Delta Earthmoving, Inc
Design Source Media
Digital Partners Asia Pacific , Inc
Directories Philippines Corporation
Distribution Solutions Phils. Inc
DPWH
Dygen Food Ventures Inc.
Dyna Drug Corporation
Dynav Construction Corporation
Eap Phils
Edl Group Of Companies
Egis Projects Philippines, Inc.
Ehs Lens Philippines, Inc
Eight Under Par (Pawnshop Operator) Inc.
Elburg Shipmanagement Phils Inc.
Elison'S Steel Bar
Emapta Versatile Services Inc.
Emory Inc.
Enye Ltd., Corporation
Epson Philippines Corporation
Equicom Shared Services Inc
Es Networks Philippines Business Solutions Inc.
Etm Tax Agent Office (Etm-Tao) Inc.
Eton Properties Philippines Inc
Euro Towers International Inc
Eximius Bpo Services Inc
Exponent Controls And Electrical Corp
Expro Detective Services, Inc
Fastdeal Collection Management Inc
Fibers Training Inc
Filinvest Hospitality Corp
Filminera Resources Corp.
First Circle Growth Finance Corp
Fluid Technologies And Environmental Management, Inc
Frankie'S Ny Buffalo Wings
Fresh N' Famous Foods Inc
Fresh Pick Agri Trading Corp.
Fronteo Phils
Fs De Leon Pawnshop And Jewelries Shop
Fsa Technology Inc.
Fugalman Services Providers, Inc.
Gakken (Phils.) Inc
Gb2Bc
Georgina Clothing Ent
Global Contractor Management Solutions Pty. Ltd
Global Staff Connection
Globequipt Corp
Glory (Philippines)
Gm Bank Of Luzon
Gokongwei Brothers Foundation Inc.
Goodwin Communication Asia Inc
Gothong Southern Shipping Lines, Inc.
Gr8Spot Advertising Services
Grand Ascend Properties Corporation
Greatminds Integrated Consultancy Inc
Greenfield Devt Co
Greenhills Christian Fellowship, Inc.
Greenroof Corp
GSIS
Guco Industrial Corp
Harada Corporation Philippines Representative Office
Health Partners Dental Access Inc
Hedcor
Hiblow Philippines Inc
Hiyas Press Inc.
Hocheng Philippines Corp
Holy Trinity College Of General Santos City
Honda Parts Manufacturing Corporation
Imasen Phil Mfg Corp
Imperious Inc.
Indra Philippines, Inc
Information Professionals, Inc.
Ink4U Corp
Innovate Strategic Resource Mktg Inc
Integrated Computer Systems, Inc
International Drilling Exploration Supply And Services, Inc
Internship Navigation Training Center
Iplus Intelligent Network Inc
Iripple, Inc
Istorya Creations
Itochu Corporation
Jcb Garments Corporation
Jfc Coop
John Hay Mgmt Corp
Jose B. Lingad Mgh
Juscall Insurance Company Inc.
Justino Corporation
Kepco Phil Corp
Kettle Foods Corp
Keywords Asia Private Limited
Klaudeville It Solutions
Klaveness Shore Services Inc
Lefort Medical Trading Corp
Lhh Tours And Travel Agency
Lifebank Foundation, Inc
Linearworks Corp
Livewell Corporate Solutions, Inc
Maersk Filipins Inc.
Makati Development Corporation
Manila Shipmanagement & Manning, Inc
Manila Toll Expressway Systems, Inc.
Manuel S. Enverga University Foundation
Mapua University
Maynilad Water Services Inc
Media Convergence
Medicare Plus, Inc
Mega Soft Hygienic Products, Inc.
Mhps Technical Services Corp
Mindanao State Univ- Tawi- Tawi College Of Tech And Oceanography
Mitsubishi Power (Philippines) Inc.
Mitsui & Co. (Asia Pacific) Pte. Ltd. Manila Branch
Mix Plant, Inc
Msp Internationalservices, Inc.
Nch Customer Support Services, Inc
Ncmh
Nep Logistics, Inc
Newbig Four J Construction Inc.
Newlife
Nikkoshi Philippines Corporation
Nord Anglia International School Manila, Inc.
Nsb Engineering Design And Fabrication
Ocic Consulting International Inc
Odfjell Philippines, Inc
Office Of The City Prosecutor Manila
Office Of The Transportation Security
OGCC
Openit Asia, Inc.
Pacificall Philippines Inc.
Parthenon Inclusive Solutions, Inc
Payatas Orione Foundation Inc.
Pc Canlas Builders Corporation
Pearlpay, Inc.
Perfect Serenity Bliss
Phil. Gold Processing And Refining Corp.
Philhealth
Philippine Drug Enforcement Agency
Philippine General Hospital
Philippine Reclamation
Philippine Red Cross
PICC
Power Dimension, Inc.
Primus @ Knowledge Specialists, Inc.
Promax International Corp.
Property Mgmt Virtual Assistant (Pmva)
Providers Multi-Purpose Cooperative
Puerto Galera Urgent Care Clinic And Diagnostic Center
Qarah Industrial Supply
Rafel Realty & Devt Corp
Rarejob Philippines, Inc.
Reassist Virtual Assistance Services
Redbasket Inc
Retail Software Associates Corp
Rex Bookstore Inc.
Royal Cablevision
Saint Pedro Poveda College
Sampuso Professional Development School
San Miguel Foods, Inc.
Sanyo Seiki Stainless Steel Corp
Save Designbuild Enterprise Inc
Save The Earth Tech
Scheirman Construction Consolidated Inc.
Seapac Phils Inc.
Shang Properties
Shaw Autogas
Shoshiba Filipina Industria Inc.
Sinochem Crop Protection Phil Inc
Solarie Ventures Co. Ltd.
Social Security System
Suarez Brothers Metal Arts Inc
Subic Water And Sewerage Company, Inc.
Subicwater & Sewerage Co., Inc.
Sumi Philippines Wiring System Corporation
Sungate Pawnshop
Systra Philippines Incorporated
Tabasan Japan Surplus Inc
Tao Lostboys
Technical Precast Detailing Services
Teleport Business Tech Solutions Inc
Thaison Builder & Developer Inc
The Chicken Factory Inc.
The First Resources Management And Securities Corporation
The Parentschooling Co.
The Thomas Aquinas Institute Of Learning
The Upper Deck Lifestyle And Leisure Corporation
Therma Marine Inc
Toyota Manila Bay Corp
Trend Micro Incorporated
United Coconut Planters Life Insurance Corp. (Cocolife)
Universal Leaf Phils
University Of Batangas
University Of Bohol Victoriano D. Tirol Advanced Learning Center
Uy Masuy Wine Factory, Inc.
Vendo Corp
Venvi Development Corporation
Villaruz, Villaruz & Co., Cpas
Virtus Logic Consulting And Services, Inc.
Wells Fargo Egs Llc Phils
Werner Access Products Philippines, Inc
Wesleyan University-Philippines
Widus International Leisure, Inc
Woodfields Consultants, Inc
Zip Business Services, Inc.
Client Feedback and Testimonials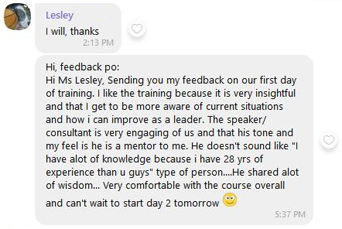 Office Administration Fundamentals

" Honestly, it was my first time to attend a paid webinar/seminar. With that being said, Businessmaker Academy provided excellent services. From actively contacting us (participants) until the day of the webinar/seminar, you guys did well. Also, the prices of your services are comparatively affordable than the others. Hats off! Looking forward for more webinars with you guys. "
– National Museum of the Philippines
Office Facilities Management

" The instructor was good and was able to discuss properly all the topics in the training. It helped me understand the importance of my job as an Admin since it covers a crucial role in the organization. "

– Therma South Inc
Fundamentals of HR Management

" I am so thankful for this Webinar because it gives me more knowledge about an HR and on how to deal with different kind of people and problems. I really recommend Businessmaker Academy to others who would like to have webinars/seminars. God Bless 😇 "
– Matling Multi-Purpose Cooperative
Leadership for Managers

" This course is great! The speaker, is engaging, humble and able to share credible experience, knowledge and wisdom. Bran is attentive as a support to the speaker. A lot of learning and realization on leadership style which was helpful in defining how we manage ourselves and work with other people. The scenarios and exercises given were good and true to life challenges and current management opportunities we are currently facing in the new normal. It will teach you to become a wiser and better leader. Kudos to BMA Team! "
– Everlounge, Inc.
Customer Service Excellence

" The BMA is a very good venue for upgrading skills. I hope more employers will get to know about it so that they can help their employees and heads grow professionally. "
– Holy Trinity College of General Santos City
Proactive Sales Communication and Conversion

" Our instructor was very engaging and attentive. He was able to answer and provide tips to all questions and clarifications raised to him. The entire session was very valuable for me — from organizing leads, prioritizing activities, computing, and learning more about the "human" side of selling. "
– Connected Freight Solutions Philippines, Inc.
Project Management

" I appreciate how the topic was discussed in the sense that it was easy to understand. The examples presented also allowed me to put perspective in my own work. The group was small and it was an advantage since people can freely share their best practices too. "
– Ateneo de Manila University
Emotional Intelligence & Leadership Training

" The Trainers from Business Makers Academy is not just providing good trainings, they are also very generous in giving ideas, information and applicable knowledge that truly helps in the transformation of their students after every class or course. "
– PRC
Employee Discipline & DOLE Compliance

" The speaker is very knowledgeable and experienced about the topic in this seminar all topics were properly discussed and the questions of attendees were answered perfectly 🙂 "
– Brother Industries (Philippines) Inc.
Office Files and Records Management

" It was very organized, that before the topics were discussed,
important terms were defined for our better understanding. Excellent, she has a wide knowledge on different fields. "
– Universal Leaf Philippines, Inc.
Office Administration

" Ma'am Candy Concepcion is very efficient, very friendly, excellent performance, knowledge and
skills in the conduct of he seminar. Full of energy, very calm, very accommodating person. I wish I could attend her seminars in the future. She explained very well inch by inch of subject matter. I wish all speaker is just like Ma'am Candy Concepcion. Thank your so much Madam for imparting your knowledge to us, your full of positivity outlook in life that we the administrative assistants needed in times of Pandemic like this, giving hope, giving support and uplifting our mind and soul. Thank your for those wonderful knowledge. I will forever bring those imparted knowledge and apply those knowledge you have given to us throughout our lives. More power Ma'am Candy, we will surely miss you Ma'am together with your company. Stay safe always and GOD bless 🙂 "
– Philhealth
Social Media & Content Marketing

" What a thought at first was a boring webinar, turned out to be one of the best social media and markering webinars I had. The trainer did not only presented his firsthand experiences but also presented up to date data that supports his arguments.  "
– Mindanao Development Authority