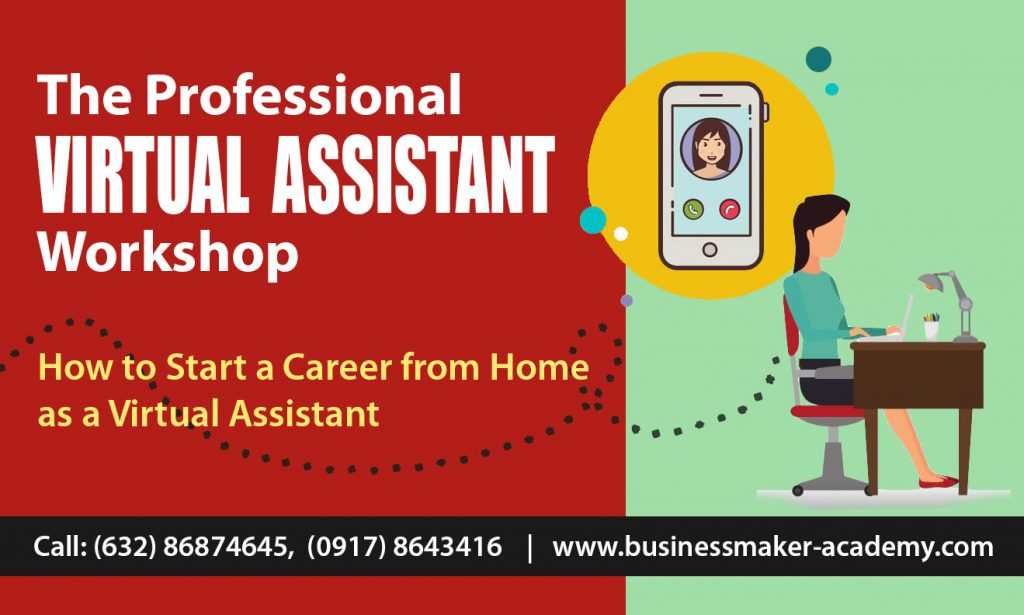 THE PROFESSIONAL VIRTUAL ASSISTANT WORKSHOP
"How to Start a Career from Home as a Virtual Assistant"
Venue:  Suite 1503A, West Tower, Philippine Stock Exchange Bldg., Exchange Road, Ortigas Center, Pasig City
Schedule 2020:  Apr 17-18  |  Jul 10-11  |  Oct 23-24
Working from home as a Virtual Assistant has now become a viable and rewarding work arrangement for many people to thrive in.  This 2-day course will guide you on how you can kick-start your career from home. It provides you with important work set-ups and digital tools to help you succeed. It gives the low-down on the pros and cons, as well as solutions to challenges that you will be facing in the job. It presents compensation models to help you navigate this field and provides you with a network of resources and community support.  Through this short program, you should be able to discover all the facets of working from home and become VA Ready.
Understand the advantages and disadvantages of working from home
Responsibilities of a home-based professional
Learn ways to manage work and time efficiently using various tools and its proper use
Address and resolve challenges that home-based professionals face
Learn compensation models and payment systems for VA work
How to Establish an Office from Home
Freelancing vs. Home-based work
Assessing your expertise
Identify your niche market
Resume writing & Submitting an applicaton
Preparing for a virtual interview
Your Social Media Presence
Creating an FB page & LinkedIn Profile
English Essentials (AU,UK, US)
Grammar tools
Pricing Your Service
Compensation Models
Payment Systems
Filing Taxes and Government Requirements
Client Relationship and Culture
How to deal with difficult clients
Creating a long term relationship with a client or clients
Commonly used by small business owners or entrepreneurs
How to use Google Tools for VA work
What is a CRM and how to apply it for VA work
Working professionals who wish to transition to home-based career.
| Early Bird Rate | Regular Rate |
| --- | --- |
| | |

Seminar is inclusive of handout, Certificate of Completion, Lunch, Snacks & Drinks.
Plus: Free 1 time refresher session within 1 year (with minimal fee = Php500/day for food & handout)
Registration Required. Seminar schedule may change without prior notice.
Early Bird Rate is applicable for payments made 8 days before the seminar date.
Bring-a-friend promo is not applicable with other promos.
Pay Parking is available on a first-come, first-served basis
Please read our cancellation and refund policy.
How to Enroll in 3 Easy Steps
Choose Your Seminar(s)
Book a slot thru:
>Online Registration
>Download Registration Form
>Visit our Office
>Phone Booking at
Tel#: (632) 8687-4445 | 8687-4645
Cel / Viber: (0917) 8643416
Remit Payment
You may settle payment:
>at our office
>via Paypal
>via Bank Deposit:
Savings Account Name:
Business Maker Academy, Inc.
BPI SA Acct#: 4013-0306-64
BDO SA Acct#: 000-280-622-422
Confirm & Attend
Please send deposit slip with your name and course via:
Fax#: (632) 8687-4445 loc. 814
Viber#: (0917) 8643416
Email: info@businessmaker-academy.com
Bring deposit slip or receipt on your class day
Important Note: Business Maker Academy Inc. is a VAT-registered company. TIN# 223-672-691-000 VAT. For zero rated or VAT exempt companies, please include your Certificate of Exemption. Provide Form 2307 or Certificate of Tax Withheld if payment done with tax withheld. Please withhold only 2% as we are classified as suppliers or contractors of service.All bank payments should be directly deposited to our official company bank accounts only under account name: Business Maker Academy, Inc. Please be advised that no other individual/personal bank account is authorized to collect payment on behalf of the company..
Customers who looked into this course also enrolled in:
Executive Assistant Training
Business Writing & Online Etiquette
Social Media & Content Marketing