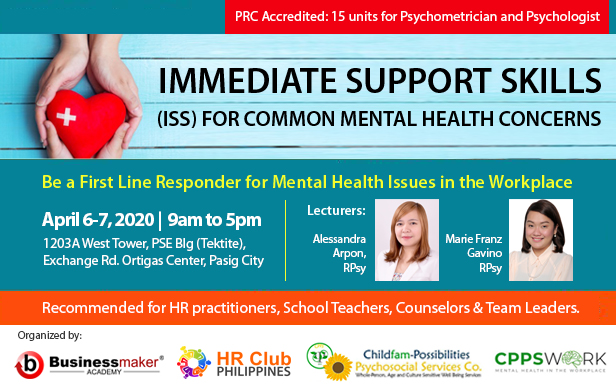 IMMEDIATE SUPPORT SKILLS (ISS)
for Common Mental Health Concerns
Venue:  Suite 1503A, West Tower, Philippine Stock Exchange Bldg., Exchange Road, Ortigas Center, Pasig City
In a country where the number of mental health professionals remains limited, there is a strong need to empower its community in providing psycho-social support for the general public. Hence, this 2-day seminar-workshop is designed to train participants toward becoming the first line of responders for individuals who are developing and experiencing mental health problems but are reluctant to seek professional help. Through lectures, discussions, and simulations, it aims to enhance knowledge and skills in identifying and responding to early signs, symptoms, and risk factors of mental disturbances and developing proactive strategies that can prevent more serious mental health problems of others as well as of their own.
CPD Units:  This 2-day seminar is accredited by the Professional Regulation Commission (PRC). Completing the course provides you with 15 units CPD (for Psychometrician and Psychologist).
How to detect Early Signs and Symptoms of Common Mental Disorders
Safety Planning for Crisis Situations
Communication Techniques for Immediate Support
Types of Professional Treatment from Mental Health Professionals
Pre-test
Mental Health Defined
The Mental Health Continuum
Detecting Early Signs and Symptoms of Common Mental Disorders
Risks of mental disorders: How to Detect Danger (Attending to Behaviors that are Dangerous to Self or Others)
Safety Plan: Dealing with Crisis Situations
Characteristics of Effective and Efficient Mental Health Supporters
Mental Health Help-Seeking Behaviors: Barriers and Facilitators
Do's and Don'ts When Communicating Immediate Support: Basic Attending and Listening Skills
Mental Health Professionals: Types of Professional Treatments and the Process of Referrals
Self-care Techniques and Healthy Lifestyle
Post-test
Those who are part of the community with interest in providing mental and social health services are most welcome in this seminar-workshop (e.g. college/university educators and leaders, human resources professionals, nurses/physicians, public safety personnel, social workers, volunteers, faith community members and leaders).
For Psychometrician and Psychologist
| Early Bird Rate | Regular Rate |
| --- | --- |
| | |
Seminar is inclusive of handouts, Notarized Certificate of Completion with 15 CPD units for PRC &

 Meals

.
Registration Required. Seminar schedule may change without prior notice.
Early Bird Rate is applicable for payments made on or before April 1, 2020.
Pay Parking is available on a first-come, first-served basis
Please read our cancellation and refund policy.
How to Enroll in 3 Easy Steps
Choose Your Seminar(s)
Book a slot thru:
>Online Registration
>Download Registration Form
>Visit our Office
>Phone Booking at
Tel#: (632) 8687-4445 | 8687-4645
Cel / Viber: (0917) 8643416
Remit Payment
You may settle payment:
>at our office
>via Paypal
>via Bank Deposit:
Savings Account Name:
Business Maker Academy, Inc.
BPI SA Acct#: 4013-0306-64
BDO SA Acct#: 000-280-622-422
Confirm & Attend
Please send deposit slip with your name and course via:
Fax#: (632) 8687-4445 loc. 814
Viber#: (0917) 8643416
Email: info@businessmaker-academy.com
Bring deposit slip or receipt on your class day
Important Note: Business Maker Academy Inc. is a VAT-registered company. TIN# 223-672-691-000 VAT. For zero rated or VAT exempt companies, please include your Certificate of Exemption. Provide Form 2307 or Certificate of Tax Withheld if payment done with tax withheld. Please withhold only 2% as we are classified as suppliers or contractors of service.All bank payments should be directly deposited to our official company bank accounts only under account name: Business Maker Academy, Inc. Please be advised that no other individual/personal bank account is authorized to collect payment on behalf of the company..
Customers who looked into this course also checked out:
Coaching Skills
for the Workplace
Leadership for Supervisors